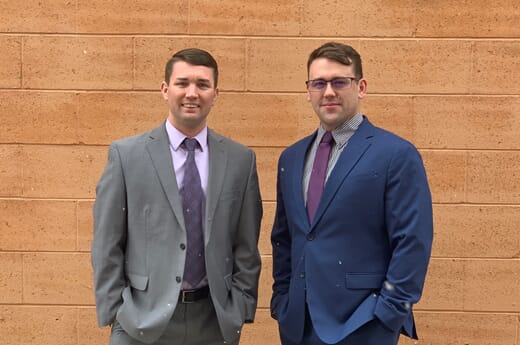 Howes Law Firm is excited to welcome Attorneys John Pilkington and Alex Momany to the HLF team! John and Alex will be in in our new Marengo office located at 1061 Court Avenue, Marengo, Iowa 52301.
Prior to joining Howes Law Firm, P.C., John practiced with Nidey Erdahl Pilkington Meier & Araguas, P.L.C. for 8 years. John has maintained a general practice primarily focused upon Criminal Law, Civil Litigation, Real Estate, Probate and Estate Planning, Tax Law, Business Organization, and Municipal Law since entering the practice in 2011. John graduated from the University Of Iowa College Of Law in 2011. Prior to law school, he earned his Bachelor of Arts in Political Science from the University of Northern Iowa in 2007. John grew up on a family farm in Iowa County where he developed the values and work ethic, which drive his practice. Outside of the law, John enjoys golfing, baseball, and is an avid Hawkeye fan.
Alex attended the University of Iowa where he earned a Bachelor of Arts in Psychology with a minor in Philosophy. Alex earned his Juris Doctorate from Drake Law School as well as earning certificates in Criminal Law Practice, Litigation and Dispute Resolution, and Public Service. Alex continues his dedication to public service through involvement with numerous charitable and service organizations. Alex began his legal career with Harned & McMeen, maintaining a private practice as well as serving as Assistant Iowa County Attorney. Alex then transitioned to Nidey, Erdahl Fisher Pilkington & Meier and has now joined the Howes Law Firm legal team. Alex practices primarily in family/juvenile law and criminal defense.
Along with John and Alex, we also wanted to welcome Deb Maas. Deb is an experienced paralegal/abstractor who has been working in the legal field for the last 30 years. Deb has dedicated her life to the Marengo community, and we know she will provide exceptional service to the Howes Law Firm Clients!